Each and every time I visit a new city, I find myself Yelping for the local Speakeasy-style bar. Why? I'm a craft cocktail kind of guy. I love to see bartenders build drinks, maybe throw a little flair in there, but really implement real and authentic, natural ingredients into their drinks.
It's usually pricy, not necessarily due to the ingredients used (although, yeah it's most definitely a factor), but the bit of art that is used in the crafting of your cocktail.
Upon one visit to a hidden Vegas speakeasy, I discovered the Rosemary Old Fashioned. In it, they used a bit of Rosemary-Infused simple syrup to bring out what would later garnish the cocktail.
Once the cocktail was built, it was put into a cocktail cabinet and infused with smoke from a food smoker much like Breville's Smoking Gun.
It really is a sight to watch right in front of you. The presentation and the conversation…"ooh what's that?" from others around you and "take it out when you are ready," from the bartender was all the pizzaz of the night.
Anyway, you don't need a fancy shmancy smoking device to make yourself one of those clever smoky old fashioneds you see at snazzy bars! All you need is some herbs you can burn (in this case, Rosemary!) and something to contain the smoke it produces so that it can infuse a cocktail.
Ingredients Needed
Rosemary Sprig
Large Ice Cube
3 oz of Bourbon
Sugar Cube
Angostoura Bitters
Orange Peel
Soda
Equipment and Glassware
Rocks or Old Fashioned Glass
Mudler
Bar Spoon
Y-Peeler (or any standard peeler)
Butane torch or your gas range
Pitcher or some sort of cover to contain the smoke
Method
In an old fashioned or rocks glass, throw in a couple of sugar cubes along with 3-4 dashes of bitters and a splash of soda. Use a muddler to crush the sugar cubes to smaller pieces that will make it easier to dissolve.
Next, add 3 oz of bourbon and mix. Allow the warm mixture to completely dissolve the sugar, if possible.
Carefully add a large ice cube into the cocktail and mix for at least 1 minute to combine.
Extract an orange peel from a fresh orange. Express by bending in half (orange side towards the cocktail) to release its oils into your drink. Then wipe the insides and edges of your glass with the orange peel.
Burn a rosemary sprig — I recommend using something with a bit of umph, as using just a match won't get the desired effect efficiently. A butane torch is preferable or simply your kitchen range. Once the rosemary sprig begins burning — you'll want it to smolder, not complete catch on fire, throw it on top of a cutting board and cover both your cocktail and the smoldering rosemary.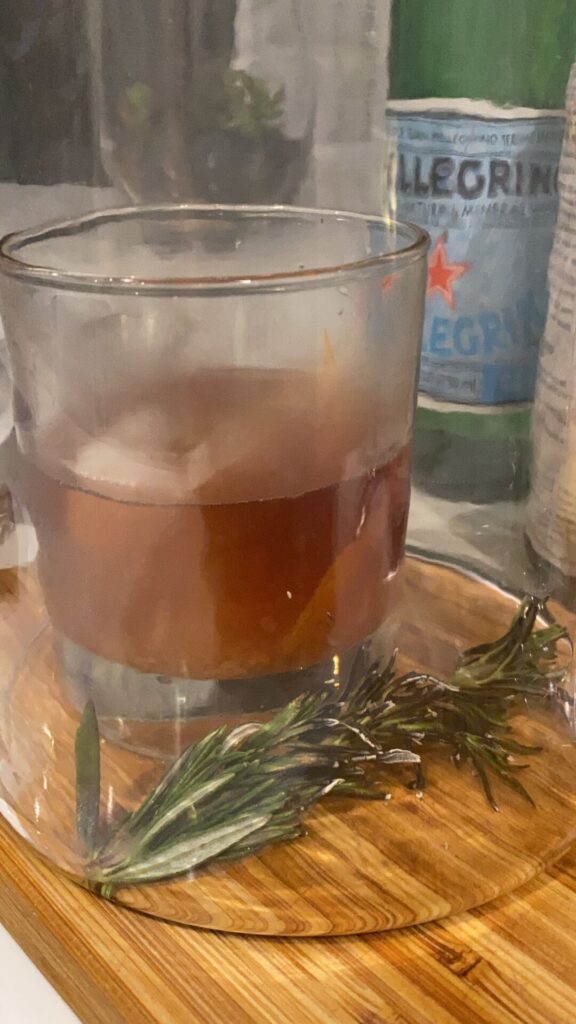 Cover with something. Preferably something clear — it's way cooler watching it infuse than not.
The lack of oxygen will end the smoldering process soon and the smoke will permeate your cocktail.
Wait 1-2 minutes.
Garnish with the burnt rosemary.
TikTok Video